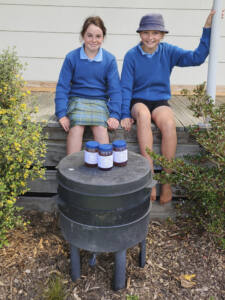 WelCom February 2023
Last year, Years 5 and 6 students of Room 5 at St Joseph's School in Taihape began learning all about worms from a visiting expert. In his final lesson the expert brought Tiger worms and containers for the students to create their own portable worm farms to take home.
A well-balanced worm farm produces 'worm wee', a super-rich liquid fertiliser-like rocket fuel for gardens and pot plants. Worm wee generally takes a few weeks to start flowing and will increase as more food is added.
Two students, Chloe and Olivia had the idea to sell the rich worm wee as a fundraiser for their upcoming class school camp. They dragged out a forgotten worm farm from behind the fence of the garden shed and prepared the purpose-made worm unit for their new venture.
Much research was needed to know what to line the enclosure with and what foods to feed the worms as the girls collected food scraps from the lunchboxes of the school students and staff.
Once the worms were settled in their new home, Chloe and Olivia set about to find information on collecting the best quality worm liquid. For example, they wanted to know what the consistency should look like. The girls were given great advice by Michelle the school's office administrator and Melissa the grounds person, who knew all about caring for worms.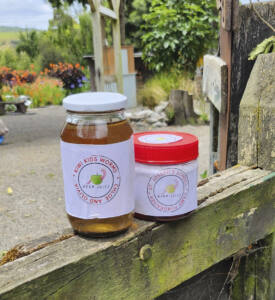 Their teacher, Mrs Ania Davidson, helped the girls develop their own branded label to attach to each container of the 'Worm Juice', ready to be sold within the school and the community. By making their product look professional the girls created a unique label. Acting principal Mrs Gordon is guiding the girls set up sales by posting on St Joseph's School Facebook page and helping with purchases made directly from the school.
This year, for each jar of Worm Juice sold, money will be saved up and put towards a need of a particular Taihape community. Chloe's and Olivia's donation will help others as part of their Christian Service to the community.