WelCom May 2017:
Sharron Cole –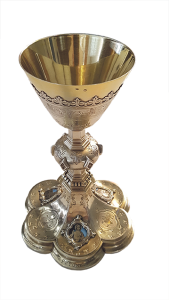 As the 100th anniversary of the World War I Battle of Messines in June this year approaches, there is mounting interest in both the battle and the role of Petone Parish Priest and Army Chaplain Fr James McMenamin who was killed in the early days of the Messines campaign in June 1917.
Planning for the 100th anniversary services is well advanced and involves the Archdiocese, the Sacred Heart Petone community, the Catholic Military Ordinariate, the NZ Defence Force, the Belgian town of Mesen (near Messines) and the French town of Nieppe.
The first of the four services is a special 9.30am Mass on Sunday 21 May, at Sacred Heart Church, Petone. During the Mass, the principal and boys from
St Bernard's College will present the native-wood carry case they have been making for Fr McMenamin's chalice. This chalice, given to Fr McMenamin by parishioners when he went overseas, was returned to the parish after his death. It will be on display in the Mesen Museum as Fr McMenamin will be honoured as one of the '100 New Zealand faces from Messines'. Towards the end of the Mass in Petone, the chalice will be handed over to the Principal Defence Force Chaplain, Ant Hawes, to begin its journey back to Belgium. All are warmly invited to join in this service in Petone.