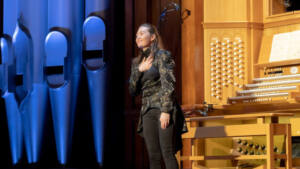 WelCom September 2023
Musician Zosia Herlihy-O'Brien has been awarded the Maxwell Fernie Dame Malvina Major Foundation Award, worth $10,000 over two years, to further her organ education in Europe.
The award honours the memory of acclaimed New Zealand and Wellington-based organist, conductor and teacher, Maxwell Fernie, who died in 1999. The Dame Malvina Major Foundation manages the Maxwell Fernie Trust and makes awards, in consultation with Maxwell's widow Greta Fernie, to support young keyboard artists to further their education or training in the organ.
The twenty-one-year-old Zosia Herlihy-O'Brien will take up a place this month in the prestigious Master of Music programme at the Royal Academy of Music (RAM) in London, specialising in organ, violin and conducting.
Zosia is much in demand as a solo, orchestral, and chamber musician and well-recognised organist, violinist and emerging young conductor in the Auckland choral and instrumental space.
'I feel so humbled and grateful to be the recipient of this award. It opens the doors to France for me, which I had felt was outside of my financial reach This support means that I can now take some time to indulge in exploring the French Romantic School of organ playing, which has always held much allure for me thanks to my beloved teacher Dr Philip Smith. To think I will be walking up the same steps in September that Maxwell Fernie himself did during his own studies at RAM, is tremendously exciting.
'I am incredibly honoured to be the recipient of Maxwell's scholarship, and extremely humbled too the more I read about Maxwell, his life, his accomplishments, and the remarkable musical drive and gift for giving music that he possessed,' says Zosia.
Currently the Director of Music (Organist and Choirmaster) at St Mark's Anglican Church in Remuera, Zosia has held Senior Organ Scholar roles at both Baradene College in Remuera and Holy Trinity Cathedral in Parnell, where she played as an organist for the Consecration of the Cathedral in 2017.
Zosia teaches a small studio of young organ students at Sacred Heart College in Glendowie. She is also the current Conductor and Artistic Director of the Auckland University Students Chamber Orchestra, Concertmaster of the Auckland Youth Orchestra, and a regular speaker at local high schools to young people considering careers in music.
Zosia is a 2023 Conducting Fellow with the New Zealand Symphony Orchestra, a 2023 Michael Hill Violin Fellow, and in September this year begins her MMus studies (Organ, Violin, and Conducting) in London at the Royal Academy of Music.
Find out more about the Maxwell Fernie Dame Malvina Major Foundation Award at dmmfoundation.org.nz and maxwellfernie.com
Source: Dame Malvina Major Foundation
Maxwell Fernie OBE (1910–1999)
Maxwell Fernie was a New Zealand organist, teacher and conductor. He was an authority on Gregorian chant, sixteenth century polyphony, organ construction and tonal design.
Born in Wellington on 25 April 1910, Fernie was initially schooled by the Marist Brothers in Newtown and later attended Wellington College. He became a leader in church music while still a young man, taking up the position of choir master and organist at St Joseph's Catholic Church, Wellington.
At the outbreak of World War II, Fernie served with the second New Zealand Expeditionary Force in Egypt and Europe. At the end of the war he stayed on in England to study at the Royal Academy of Music in London, gaining several prizes.
Fernie returned to Wellington in the early 1950s as the director of music for Catholic schools in the archdiocese, a position he held until 1953 when he was called back to London as organist and choir instructor at Westminster Cathedral.
After five acclaimed years of intensive organ playing, music making and teaching, he returned to New Zealand to become the Director of Music at St Mary of the Angels in Wellington where he supervised the building of the new organ constructed to his design. Fernie's development of sixteenth century polyphony at St Mary of the Angels became a model for Catholic Church choirs.
In the following years, Fernie schooled choirs, taught piano, organ and singing, and trained celebrated musicians. As well as being a well-known broadcaster and lecturer, he founded and conducted the Schola Polyphonica Choir (specialising in 16th Century polyphony) in 1967. He was Wellington city organist for 27 years and played the Town Hall's massive pipe organ on numerous occasions for civic receptions.
He continued as Director of Music at St Mary of the Angels until his death on 22 May 1999.
Source: Wikipedia