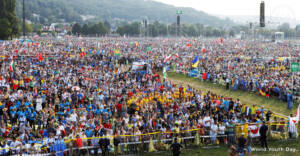 WelCom June/July 2023
Nick Wilson
World Youth Day is one of the biggest gatherings of young people on the planet and was dreamed into reality by St Pope John Paul II. A number of young New Zealand Catholics will be making a pilgrimage to WYD in Lisbon, Portugal, in August to join with other young Catholics from around the world.
The Aotearoa New Zealand World Youth Pilgrimage is being organised by the New Zealand Catholic Bishops' Council for Young People. In June, pilgrims from across the Diocese of Palmerston North gathered at Te Rau Aroha – The Diocesan Centre over a weekend, to get to know one another in preparation for their big trip in August.
Our diocese's pilgrims are from Dannevirke, Whanganui, Palmerston North, Ohakune, Hastings and the Pohangina Valley.
Some are seasoned travellers. For others, this will be their first time to Europe. The weekend gathering was an opportunity to scrutinise the pilgrimage itinerary, which will also take in significant religious sites such as Lourdes, Fatima, Fourvière and Le Puy, as well as relics and saints' sites, including the heart of St Vincent de Paul and the resting places of St Catherine Laboure and St Thomas Aquinas. Health and safety considerations and other preparations for travelling in a large group of about 130 people were also examined.
There is huge excitement among our pilgrims. They will be hosted in one of Portugal's 17 dioceses for catechesis and cultural experience and their pilgrimage will culminate at the WYD Mass with Pope Francis on 6 August.
Our pilgrims are set with new friends, information and tips for a successful and prayerful pilgrimage and a St Christopher medal to wear while they are travelling.
We look forward to their safe return where we hope this experience will have invigorated their faith for Spirit-led service to our local church, and to hearing about their prayerful adventures.
---
World Youth Day was established by St Pope John Paul II in 1985. The week-long celebration usually attracts hundreds of thousands of young people.
The event is typically held on a different continent every three years, with the presence of the pope. The Vatican previously announced World Youth Day would be postponed by one year due to the Covid-19 pandemic.
Lisbon, the capital and largest city in Portugal, is about 120 kilometres from Fatima, one of the most visited Marian pilgrimage sites in the world, where the Virgin Mary appeared to three shepherd children in 1917.
The theme of Lisbon's World Youth Day, which will take place 1–6 August is, 'Mary arose and went with haste'.
In May, Pope Francis sent a video message to the teens and young adults preparing to attend this year's World Youth Day.
'To participate in WYD is something beautiful,' the Pope said. 'Prepare yourselves with that enthusiasm. Put hope in that. Have hope because one grows a lot at an event like WYD.'