WelCom October 2018:
Missionary calling in youth ministry
Tausilia McClutchie
Kia Ora, Talofa lava my name is Tausilia Mcclutchie. I am of Samoan and Māori decent and I am from the beautiful Te Tairawhiti, Gisborne. My role at the Palmerston North Diocese is part of the youth team as the St Peter's College Chaplain in Palmerston North, the Whanganui Parish Youth Minister, and Cullinane College Chaplain. Another role I have is living and assisting with the running of the Young Adult Community house in Palmerston North called Te Ahi Kaa.
Youth Ministry was not something I ever imagined I would pursue. It kind of evolved from me being a member of the Young Adults' group to where it is today. My main mission has been simple from the start – to bring youth closer to Christ and give them the tools they need to strengthen their relationship with God through the Sacraments. I was lucky enough to experience this as a teen, which built a sense of resilience within me and the idea that God has always had my back. This is an experience I'd like to pass on to our youth and teens. Relational ministry, getting to know the youth, being authentic and building strong, trusting relationships with them, have been my key components in being able to achieve this.
I believe God works in mysterious ways and has led me to my ministry today so I am able to be God's instrument to help and support our youth. The youth who are lost, broken and confused but also to triumph with our youth who have been saved, loved and gladdened. As a result, this humbling opportunity to serve the youth of today has been both challenging and rewarding, overall has been a true blessing.
---
Called to Mission through Young Vinnies
Laurelei Bautista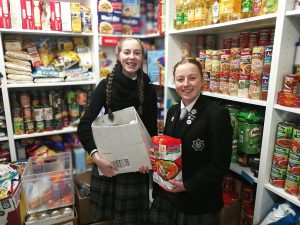 Before starting college, joining Young Vinnies was already high on my list of things I wanted to do. I've been aware of social justice issues ever since I was a small child when I witnessed people living on the streets for the first time. I wondered why people in such situations weren't being given enough help, why people were letting them live in such awful circumstances. As I grew up, I learned how complicated and difficult each individual's situation can be. I learned of how widespread social justice issues were ‒ it was something affecting people all over the world. I wanted to help where I could, so when I heard about the work being done by Vinnies, I knew I needed to get involved.
Through Young Vinnies, I've participated in several activities including volunteering at the food bank and the clothing warehouse. Participating in activities with Vinnies has made me grow immensely in gratitude and compassion. I'm grateful for all I am lucky to have, including this opportunity to help others. Vinnies has served as a 'reminder' to be more mindful of the way I treat others ‒ it's impossible to know what another person is truly going through and it's so important to act with kindness and respect.
Young Vinnies has also allowed me to gain a deeper understanding of the social injustice going on in my community. It is so important for younger generations to be aware of such issues. We must get involved in order for us to carry on the steps of improvement already being made by organisations like Vinnies, and continue to ensure help and support are provided to all who are in need of it. The Society of St Vincent de Paul is making a huge difference to people affected by these issues and I am so glad to be a part of it.
Young Vinnie Laurelei Bautista is a Year 11 student at St Mary's College, Wellington.
---
Serving the community
Natalie McPherson
Year 12 students are currently linking the mission of the Catholic Church with helping communities in need on a global level. It is also part of the Church's mission to help others within our own community.
That is why Alexandria Scurr, Jasmyn Hannan and Alyssa Malone, students at Sacred Heart College, Napier, immediately responded to the call of help for the fundraiser of 'the Rescued Plate' in support of Nourished for Nil's food rescue project.
Nourished for Nil have already saved 150 tonnes of food from going to landfill this year. Their food-rescue project gifts free food to people in the community and saves waste. They are serving up to 300 people at any one time of being open for only an hour a day. This volunteer organisation works in solidarity to serve the community. The students of Sacred Heart College are grateful for the opportunities to have experienced the joy of giving with Nourished for Nil and are in full support of this initiative.
Natalie McPherson, Teacher of Religious Studies, Sacred Heart College, Napier.