The catch cry was "we are all youth we are all the same and we are all different", said Gemma O'Donnell who attended the Youth Diversity Forum at the end of August.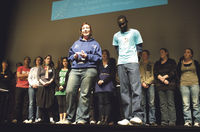 Gemma was one of three tertiary students sponsored by the New Zealand Catholic Bishops Conference Office for Young People to attend the three-day Youth Forum, part of the annual New Zealand Diversity Forum held in Wellington August 22 to 24. She was joined by Katherine Leslie and Amy Aukusitino.
This year's focus was religious diversity.
Around 40 attended the Youth Forum which involved small and large group discussions on human rights, analysis of the Treaty of Waitangi and a seminar on religious diversity in the workplace.
There was also a session on racial diversity, where participants were divided into ethnic groups to decide what they would like people to know and not know about their culture, what they would never want to see or experience again and what they would want their allies to do.
Katherine Leslie said generalisations and stereotypes of cultural groups were the common issues that arose.
Gemma said participants wanted to be able to talk about racial division in New Zealand without feeling like they were breaking a social taboo.
'We want the world to be discrimination free, for the media to represent different cultures accurately and for people to understand, recognise and acknowledge the complexity and diversity of cultures within New Zealand,' she said.
The same things that are preventing racial diversity from flourishing and being encouraged are the same core values that are preventing any kind of diversity, including religious.
Participants put together two media presentations on youth issues and diversity to report back to the main forum.
Katherine said the presentations identified the main issues that had arisen at the Youth Forum and outlined solutions to ensure diversity flourishes in the community.
'The first was fostering education initiatives in our communities to help raise awareness, the second was ensuring we have kotahitanga (unity and oneness) in our communities and the third was guaranteeing we have true representation in our communities and youth councils,' she said.
Amy Aukusitino said it was everyone's honesty that made the Youth Forum experience so powerful.
'There was a raw, honest openness from everybody. No one kept anything back. This can't be a one-off, it has to keep happening,' she said.
Gemma said that events such as the Youth Forum where people from different backgrounds can get together and discuss issues are 'crucial to breaking down barriers, understanding and accepting'.